Welcome to Global Waternet
Your water information platform
Find water jobs, scholarships, conferences, MSc/ PhD programs, training courses, open courseware, projects, reports, tutorials and tools
---
Recent water posts
---
Water jobs: Water Resources Specialist
05 Nov 2017 The Water Resources Specialist contributes to the formulation and articulation of policy and strategies on water resources management in developing member countries (DMCs). Lead in identifying, developing, processing, implementing and administering l....
---
Water jobs: Senior Water Resources Specialist
05 Nov 2017 For the Water Sector Group, contribute to the planning, development, and execution of initiatives in the water resources, with a particular focus on flood risk and integrated urban water management across all Asian Development Bank (ADB) developing m....
---
Water jobs: Research manager: Section for Catchment Processes
05 Nov 2017 The section for Catchment Processes is engaged in environmental monitoring, experimental research and modelling related to current and emerging water issues. Statistical and process modeling is core to the section's activity, and research on biogeo....
---
Water jobs: Pacific Ocean Policy Advisor
05 Nov 2017 The Pacific Ocean Policy Advisor plays a key role in the development and implementation of one or more strategies to achieve The Nature Conservancy's goals on Ocean Governance and Biodiversity Conservation through interaction with governments, mult....
---
Water jobs: Senior Programme Officer, Programmes, P5
05 Nov 2017 This position is located in the Global Compact Office in the Secretariat of the UN at Headquarters. The Chief of Programmes, Senior Programme Officer, reports to the Executive Director of the UN Global Compact. The focus of this job is to lead and di....
---
Water jobs: Doctoral position on "River mesohabitat modeling"
05 Nov 2017 The successful candidate will have a strong engineering background, skills in coding (e.g. C++ FORTRAN, Python, MATLAB) and a desire to work at a modeling level at the interface between hydraulics and ecology. Fluent spoken and written English, as we....
---
Water jobs: Policy Analyst
05 Nov 2017 Reporting to the Director, Water or their designate in our Winnipeg office, the successful candidate will provide research, project management and communications support for the Water Program on aspects of effective and cost-efficient policy developm....
---
Water jobs: Assistant Professor in Hydrogeology
05 Nov 2017 The Department of Geology at the University of Georgia seeks applications for a tenure-track faculty position at the Assistant Professor level in the general field of Hydrogeology starting August 2018. Applications from scientists with backgrounds in....
---
Water jobs: Assistant or Associate Professor, Research
05 Nov 2017 The College of Engineering and Mathematical Sciences (CEMS) at the University of Vermont (UVM) invites applications for a 3-year research professor position at the assistant or associate level in lake modeling, with an expected start date of July 1, ....
---
Water jobs: Conservation Director MNCA
05 Nov 2017 The Conservation Director of MNCA supports the Executive Director to ensure that the four programs in the MNCA region (water, energy infrastructure, integrated landscape management - forests , oceans) are effectively implemented. The Conservation Dir....
---
Please visit the individual pages for more posts
---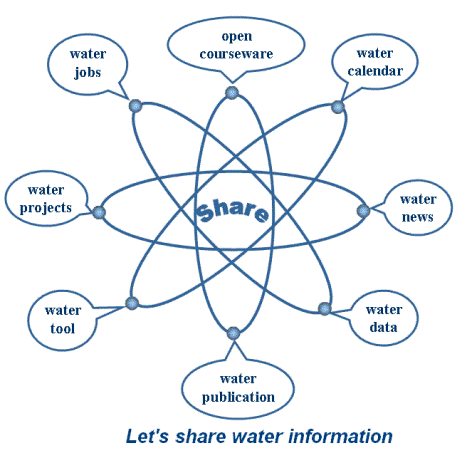 Share and access your water news
Share and access your water calendar
Share and access your open courseware in water
Share and access your educational programs in water
Share and access your scholarships water studies and research
Share and access your water data
Share and access your free tools and commercial tools
Share and access your water projects
Share and access your water reports and papers
Share and access your water jobs