Welcome to Global Waternet
Your water information platform
Global Waternet provides the right platform for sharing your water information.
---
Recent posts
---
Job: PhD Program in Science & Policy
24 Sep 2017 Introduction The PSC PhD Program in Science & Policy is designed for researchers in the natural sciences wishing to acquire additional tools at the interfaces of research, policy, and diverse stakeholders. The program is open to motiva....
---
Job: Scientific Officer
24 Sep 2017 Under the overall guidance of the Director, Weather and Disaster Risk Reduction Services (WDS) Department, and the direct supervision of the Chief, Data-processing and Forecasting System (DPFS) Division, the incumbent will perform the following dutie....
---
Job: Intermediate Environmental Scientist / Engineer / Geologist
24 Sep 2017 Amec Foster Wheeler is currently seeking an Intermediate Environmental Scientist, Engineer, or Geologist to complete fundamental tasks related to Phase I and II Environmental Site Assessments and Remedial option analysis and implementation. Other tec....
---
Job: Water Utility General Manager
24 Sep 2017 The City of Fond du Lac is accepting applications for the position of Water Utility General Manager. This full-time position reports directly to the Director of Public Works and is responsible for all administrative, managerial and technical work in ....
---
Job: Storm Water Engineer
24 Sep 2017 The Department of Natural Resources is hiring a Storm Water Engineer in the Water Resources Engineer - Senior classification within our External Services Division. The Storm Water Engineer has the option to be stationed in Baldwin (St. Croix county)....
---
Job: Water Resources Management Specialists (multiple vacancies)
24 Sep 2017 The Department of Natural Resources (DNR) is currently filling three Water Resources Management Specialist-Advanced vacancies and one Water Resources Management Specialist-Senior vacancy for the Water Quality Program. However, we anticipate multiple ....
---
Job: Watershed Management - Water Resources Scientist
24 Sep 2017 We are seeking a mid-level Water Resources Engineer or Scientist with experience in the areas of watershed management, stormwater and surface water quality, and environmental permitting and impact assessment. This professional will work in our Natura....
---
Job: Assistant Resource Specialist II
24 Sep 2017 OB INFORMATION The Imported Water Supply Unit of the Water Resource Management Group, Resource Implementation Section has one (1) opening for an Assistant Resource Specialist II at the Headquarters Building in downtown Los Angeles. Metropolita....
---
Job: Management Professional - Water & WasteWater Research
24 Sep 2017 The Management Professional - Water and Wastewater Research is responsible for planning, leading, organizing, controlling and executing a wide variety of technical projects centered on water and wastewater treatment and controls. This position will b....
---
Job: Watershed Scientist
24 Sep 2017 Denver Water's External Affairs Division/Environmental Planning Section is currently seeking a qualified candidate to assist us as a Watershed Scientist. Under general supervision, the Watershed Scientist will serve in a technical role as part of a ....
---
Please visit the individual pages for more posts
---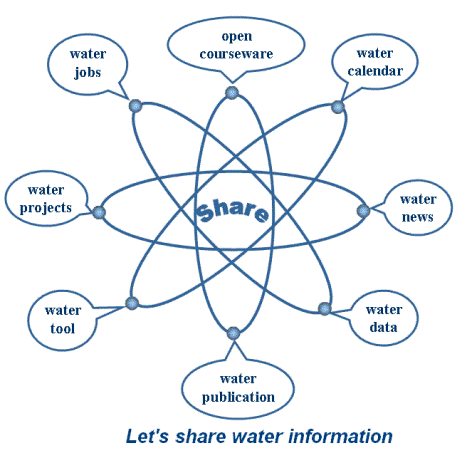 Share and access your water news
Share and access your water calendar
Share and access your open courseware in water
Share and access your educational programs in water
Share and access your scholarships water studies and research
Share and access your water data
Share and access your free tools and commercial tools
Share and access your water projects
Share and access your water reports and papers
Share and access your water jobs